8 Must-Have Lead Generation Essentials for Manufacturers
by Tech2B on Apr 26, 2022 4:01:22 PM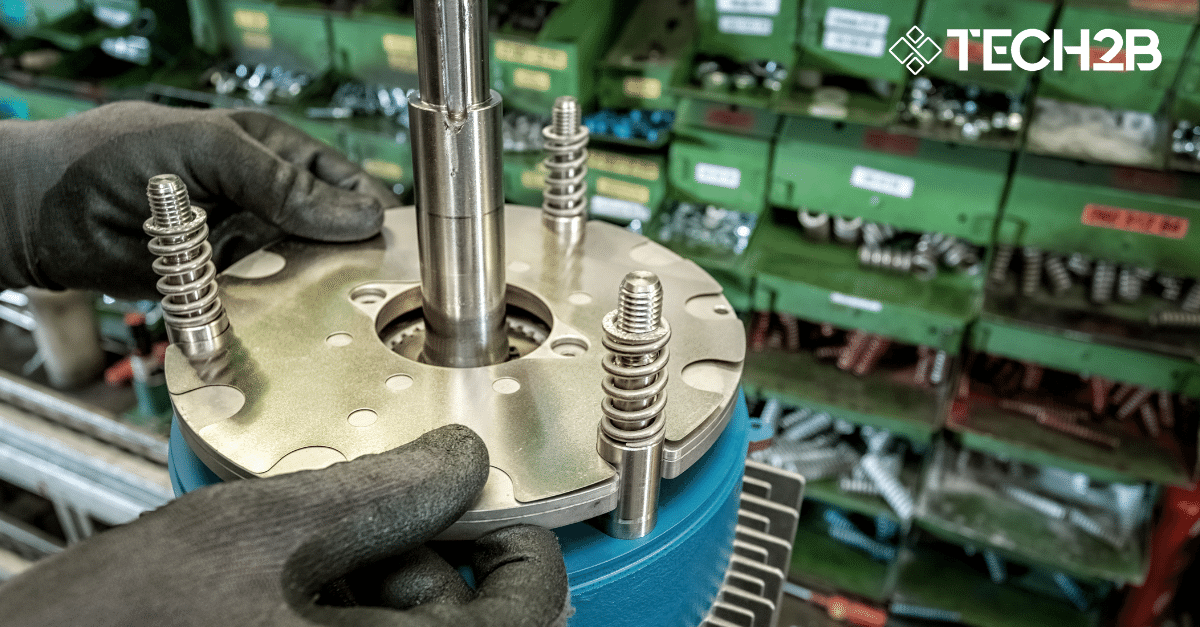 Are you having trouble generating leads for your manufacturing business? If so, then don't fret because you are not alone. According to a detailed report by the Hubspot Academy – 61% of the marketers admitted that lead generation is their biggest challenge.
Well, we don't blame them. Knowing the fierce manufacturing business competition, it is hard to capture your prospect's attention more than ever. Perhaps that's why 37% of the B2B marketers tend to use marketing automation to generate leads. Even then, the marketing people state that only 5-10% of qualified leads successfully convert into long-term customers.
The purpose of this is the fact that lead generation is a continuous cycle of efforts. After generating a quality manufacturing lead for your business, you need to set up a personalized marketing strategy to keep your buyer in the loop. It can include some targeted offers based on their preferences and future product proposals they might be interested in buying.
With the right lead generation tips and techniques for manufacturers, you can certainly climb the ladder of success in no time. If this sounds interesting, continue to read on because we have compiled a list of eight effectively proven techniques to help you stand out from the crowd. So, without any further ado, let's dive straight into the discussion, shall we?
Top 8 Must-Have Essentials for Manufacturers to Generate Leads
Here we explore the top 8 must-have lead generation essentials that can undoubtedly assist manufacturers in creating more opportunities than ever:
Understand the People – Not Just the Company
Often manufacturing companies target their potential leads by their profitable industrial niche, enormous market size, organizational turnovers, and so on. Instead of paying more attention to who they are dealing with, they focus on what they want to gain from them. But that's where they bet on the wrong horse. In lead generation, this tiny mistake can turn the tables upside down. According to research, 79% of the marketing leads never convert into actual sales.
That's because, in the end, it's all about the "people." We buy from the people, and we sell to the people, and hence we may as well understand them for the better. And that's how lead generation works – by simply interacting and understanding the people and their respective behaviors. In the marketing world, they use this particular phenomenon to create a buyer persona. Practically, it's a fictional character who matches your potential buyer's description, desires, goals, and challenges.
Now you might be wondering if it's even worth the time. Then let us give you another reality check; 82% of the companies implementing buyer persona strategy for targeted lead generation resulted in the absolute growth of their value propositions. At the same time, 71% of the companies that outperformed their estimated revenue expectations and lead generation goals were found to be operating on documented buyer personas as well.
Nonetheless, the point is that the moment you begin to know the person, rather than the organization they work for, that's when you see your efforts lead to results.
Engage in Proper Communication with Your Clients/Customers
Once you understand the person, the communication gets easier. As in the world of today, it was observed that around 57% of the B2B buyers have already got their minds made up before even talking to a sales representative. Wether you belong to manufacturing or any other industry for that matter, engaging to connect with your targeted audience is the most crucial part of lead generation. It leads you directly to where you need to be, figuring out their pain points.
Personalize Your Campaigns
When it comes to targeting your potential buyers through a lead generation campaign, always remember that every client is different, and that's how they should be treated. This means you have to exclusively study their priorities, likes/dislikes, along with their possible needs and wants. The more you understand the reason behind their choices, the less time they will need to move ahead in their buyer's journey. If done appropriately, personalized campaigns for lead generation can bear fruits you can't even imagine.
Are you still wondering if your buyers would like you to send them personalized lead generation content? Allow us to satisfy your curiosity by telling you the fact that according to a Salesforce report, 68% of the B2B buyers require brands to understand their personal needs and wants before making a buying decision. Moreover, 84% of the stakeholders in B2B companies preferred being treated like a person instead of a robot and said that it was the critical factor that won them over.
Reach Out To Your Clients to Leave Reviews
In lead generation, the power of an online customer review can't be ignored, especially in the manufacturing industry, where the decision-makers also like to consider the previous clients' experiences and opinions. Everything from their likes to dislikes and their reconsideration of the same manufacturer gives authority to both the manufacturing company and their clients.
Don't take our word for it? Then let the stats speak for themselves. Over 95% of the customers confirmed that they read reviews before purchasing. Other than the consumers, 92% of the B2B buyers also said they are more likely to purchase after reading a trusted review about a product. Therefore, don't forget to ask your existing and future clients to leave you a quick review.
Share Your Expertise
As a manufacturing business leader, use your experience to establish your authority in the industry. Although it might sound like an overwhelming task, it's pretty simple. Try sharing your expertise with your targeted audiences. For instance, you will probably be calculating the budget for marketing events and other strategies to reach out to people and whatnot.
Instead, use a channel where millions of people can easily see you or a place where they already exist, like your website or your official social handles. You will be surprised how a mere video with some valuable information can add a spike to your lead generation analytics. A data-driven insight shows that 86% of the marketers confirm that the video content has helped them generate more leads. Thus, if you haven't tried this creative and low-budget hack till now, do give it a shot!
Optimize Your Profile on Referral Sites
While speaking about lead generation for manufacturers, maintaining an updated and optimized profile across social and referral channels can significantly add to their authenticity. Imagine your potential buyer searching for your manufacturing company to buy your products, but they failed to find you or any recent update about your company. What do you think would happen? Yes, you would lose that quality lead that was about to convert into a loyal customer. Your competitors will take advantage of this situation and leave you with nothing but regret.
Consequently, don't ignore your profiles on different social and referral networks. If appropriately maintained, it can extensively enrich your lead generation process. Seems too good to be true? Let us assure you with some facts that 78% of the B2B referrals generate achievable customer leads for the business, while 65% of the referrals end up generating new business leads.
Centralize Marketing If Selling through Distributors
For manufacturers running their business through a mediator (distributors), the best way to go about this is to narrow down promotional endeavors. In other words, centralize your marketing attempts into a mutual digital platform. Thus, you will have all the control over your manufacturing brand, and your potential leads will be easily able to look up your company's products.
Your distribution partners will also have a constant medium to reach both you and other customers. Additionally, this move will also increase your possibilities of generating more manufacturing leads by taking on new distribution partners to upscale your business. An example would be "Tech2B," which is an online, cloud-based platform connecting suppliers and buyers to fulfill their needs for machine parts and industrial services in order to centralize collaboration for manufacturers.
Always Be Well-Informed with Current Industry News
Lastly, you can sign up to press releases and publications and subscribe to different manufacturing networks on social media. Plus, don't let go of the magazines related to the manufacturing industry. They usually contain enough information to keep you ahead of your lead generation game. Besides, knowing new trends in the industry helps you move forward in the right direction.
Conclusion
After going through all the tips and tricks considered essential in lead generation for manufacturers, we hope you have gained some new and creative insights to upgrade your current strategies. By adequately studying your potential buyers' behavioral and psychological triggers, you can quickly grab their attention and grow your business revenue to a new height. To back this claim up, in 2021, a report by Intellistart revealed that B2B companies with mature lead generation processes enjoy 133% more revenue than the other average companies.
Curious about the added value of Tech2B for your company. Create a free account here.Maak een gratis account hier aan.
Do you want more information? Schedule an online demo here.
No Comments Yet
Let us know what you think