How SOLID innovates faster thanks to Tech2B
by Sjors Hooijen on Aug 20, 2021 1:56:00 PM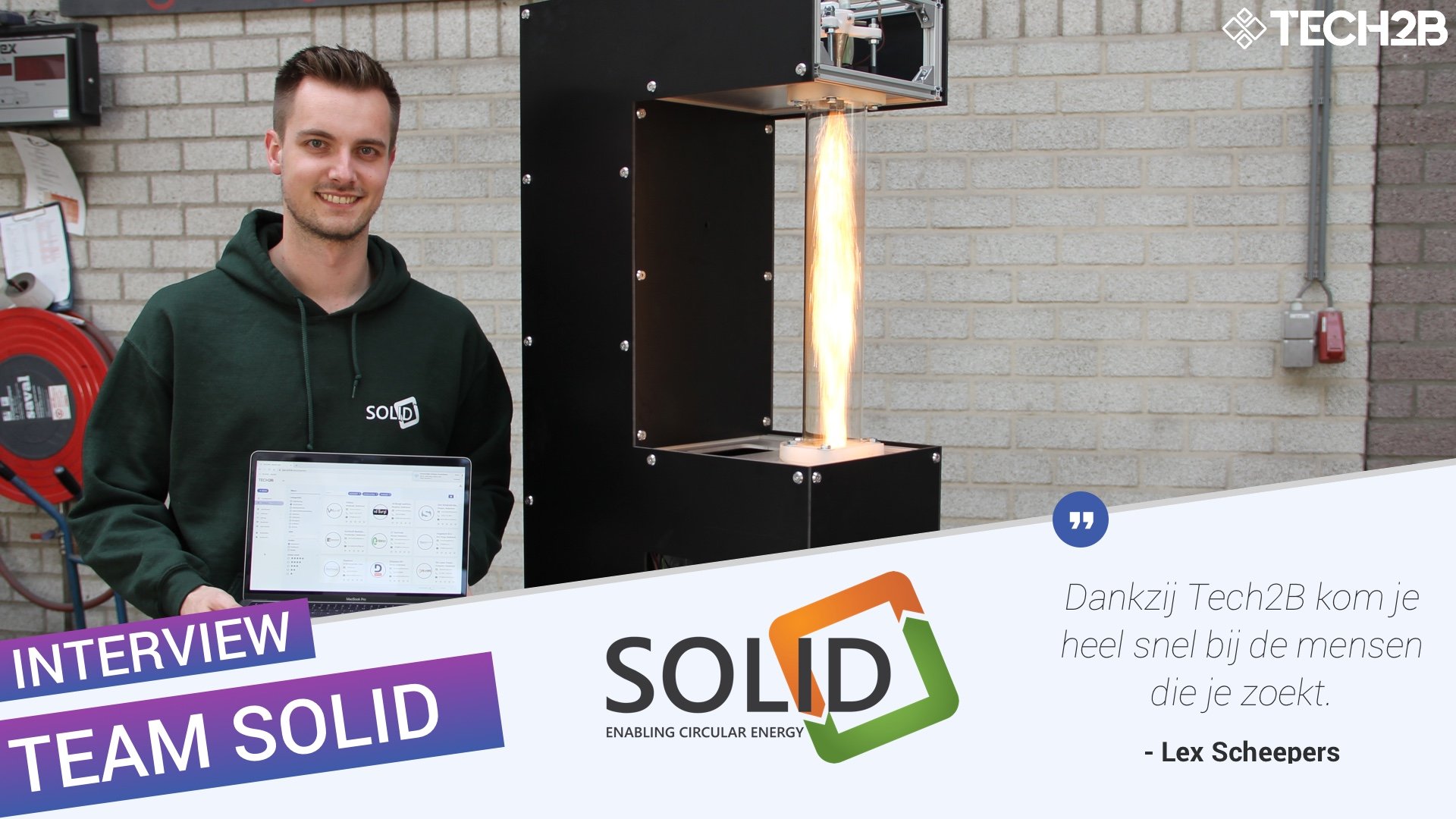 The world demands change. Fortunately, many companies are already working hard to become more sustainable. We are switching to electric cars and bicycles and using solar or wind energy. But what if you operate in a sector in which the current green alternatives do not work optimally? TEAM SOLID focuses on metal fuels to help make heavy industry that depends on high temperatures more sustainable. SOLID regularly collaborates with the manufacturing industry for the components in a prototype of an iron flame.

40% of CO2 emissions in the Netherlands are from heavy industry.
"We are a student team," says Lex Scheepers, one of the members of SOLID. "You probably know those teams that build solar cars." Eindhoven University of Technology has about 20 to 30 teams that deal with various subjects. SOLID is one of these teams.
"We solve a problem: every company and every team does that." explains Scheepers "The problem we are solving is the energy transition, which is very difficult for some industries because they use heat at high temperatures and on large energy scales." Power stations and the chemical industry are an example of this.

Achieving high temperatures with sustainable energy
"They need high temperatures. They are now doing this with fossil fuels as an energy source, but they have to get rid of that," Scheepers continues. He explains that this alone is not easily feasible. Because they depend on energy 24/7, windmills and solar panels do not work properly. After all, there is not always wind or the sun shines. To solve this, a method is needed that makes large-scale energy storage possible and that meets the requirements of energy consumers: metal fuels.

"Everyone has to switch. By 2050 there must be 95% less CO2 emissions. It must happen. But nobody knows how." Philip de Goey – professor of combustion technology – had heard about energy storage in metals. He is the one who brought the forerunners of SOLID together. "Since then, it has only grown and more and more research is being done" says Scheepers audibly enthusiastically. "We are currently on a nice scale".

It is no longer a question of whether they will get the solution to work, but when. "It will be interesting for companies to consider and co-develop this. Because there's a rush behind it!"

What does SOLID use the Tech2B platform for?
SOLID mainly uses Tech2B to have specialist components made by experts who have done this before. This way they can keep themselves busy developing, for example, the show model of an iron flame that they are working on. "The students in our team have relatively little practical experience. So for us it is handy that if you need something specialist, you immediately have the people at Tech2B who are of interest to you. Instead of Googling and coming into contact with too large – often slow – companies."

Quickly in contact with professionals from the manufacturing industry
The fun part, according to Scheepers? "We very quickly come into contact with people with experience that we would normally never have come into contact with." These companies often know exactly what solution is needed for a problem. "I also think it's unique that you see companies on Tech2B that are literally in my street in Bladel. I've always driven past it without knowing what they make there. And now we are working with it." According to him, it also saves a lot of transport costs.

"Thanks to Tech2B you can reach the people you are looking for very quickly."

Positive community experience
Scheepers is also pleased with the appearance of the website "Beautiful site. Works handy." According to him, it is good for everyone to use. "You can just put a call on it and someone else can say I can do this." According to Scheepers, that works much faster than through traditional channels. "Now you don't have e-mail contact or difficulties with file formats." He indicates that Tech2B works just as intuitively as Marktplaats.

Tech2B makes file sharing easy for everyone. "You don't have to be an expert in 3d drawing to get a quote from a company. The companies at Tech2B understand that not everyone who needs a part is a specialist." According to Scheepers, you often get a quick answer from companies.

Much faster component delivery
"The most important thing for me is that you are much faster." Scheepers lists Tech2B's greatest advantage. You quickly come into contact with companies that can help. "They are already on that website, so you don't have to search yourself." Due to that fast switching, you also receive your components much earlier.

"With us, innovation is much faster because the contact with manufacturing companies is so easily accessible. This speed, in turn, allows us to quickly perform tests and make improvements. This allows us to focus on our own innovation without being 100% aware of the ins and outs of the manufacturing industry."
Scheepers notices that switching is much faster in various phases. "First of all, you spend much less time looking for who you need. Second, if you have someone, they will make something for you much faster. This is because everyone at Tech2B works according to the same fast workflow." He experiences that the makers also speak his language much more often because he comes into contact with local entrepreneurs.
Would you recommend Tech2B to other companies?
"Yes, I think it works for everyone." According to Scheepers, there are many companies that need faster switching and tailor-made solutions. "We are then a student team and need something once every two weeks. That is about components of 1 or 10 pieces or something. But you can also indicate that you need 1000. Both companies that are interested in producing large numbers and companies that produce small numbers use Tech2B."
All in all, SOLID notices their show model project is running faster. The team hopes that in the future – when large-scale metal fuel installations have to be produced – the innovation speed will remain high by using Tech2B. For the time being, the team will certainly remain active on the platform.
https://teamsolid.org