Paving the Way for an Innovative Reconciliation Method in High-tech Ecosystems
by Sjors Hooijen on Aug 3, 2023 9:21:00 AM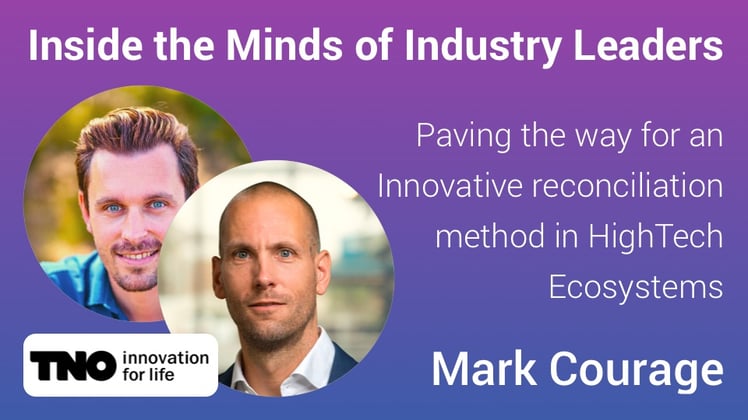 Digitisation: the recipe for growth without additional employees.
The exact level of Dutch productivity growth is a matter of debate. Was it really 0.2 percent in recent years, or does the net percentage turn out higher when corrected for inflation figures? The fact remains that a productivity growth of 5 percent per year is needed to cope with labour market shortages, says Mark Courage, Director of Smart Industry at TNO. However, the industry is far from achieving this. "Digitisation must now be seriously undertaken." "We also need to help SMEs transition to Industry 4.0. Currently, a considerable portion is still stuck in Industry 3.0. It is one of our main objectives to contribute to this," says Sjors Hooijen, CEO of Tech2B.
Because digitisation is the recipe for growth without a proportional increase in the workforce. Mark Courage observes that within the Dutch high-tech industry ecosystem, the leaders and fast followers are currently making significant strides in this regard. However, the majority of small and medium-sized enterprises (SMEs) are lagging behind. "Most companies have a workforce size of 15 employees. They are focused on survival. Their main concerns are about daily business and how to find people to hire."
150% more productive in 2040
TNO recently presented the report "High-Tech Industry 2040." In it, the knowledge institute outlines the steps needed to achieve a 50% increase in revenue from new value chains, operate 100% more sustainably, and become 150% more productive by 2040. The latter, achieved through digitisation among other factors, is necessary to secure an international competitive position. However, Mark Courage points out that the Netherlands is investing 100 times less than Germany and 22 times less than Belgium in Smart Industry. He believes the Dutch government should step up its efforts in technology development for energy transition and the circular economy. "In the US, we see this happening with the Inflation Reduction Act. The government takes on the role of orchestrating the development of necessary knowledge and expertise." The Netherlands should develop new control points in emerging value chains, such as ASML's EUV machine. "If you want to produce chips, you have to go through the Netherlands." He cites the Delta Works as another good example: by investing in knowledge development, the Netherlands protected itself against high water levels and acquired knowledge that is still being monetised globally. A similar approach is needed now, particularly in battery technology. "We will not win with mass battery production, but with technology or machines to manufacture those batteries." Building complex advanced machines is where the opportunity lies for the Dutch high-tech industry.
Key technologies: how to involve SMEs?
According to the report's authors, engineering and fabrication technologies are the most critical key technologies for achieving these goals. However, all Tier-N suppliers, often with no more than 15 employees, need to embrace digitisation in the supply chain. The focus is on capturing knowledge and experience and eliminating the significant inefficiencies that currently exist in the chains. Mark Courage suggests that OEMs and 1st-tier suppliers need to adopt a different reimbursement method that includes 2nd-tier and 3rd-tier suppliers. Tendering orders when speed is of the essence is not ideal. The entire ecosystem needs to be considered for smooth operations. He draws a comparison with the construction industry: contacting each party individually requires numerous interfaces, leading to slower progress. "With established parties, you can switch gears faster." He acknowledges that this transition is challenging. Traditionally, ecosystems were designed to receive goods as cheaply as possible, and at the top, rules are determined with a focus on maintaining flexibility. "But everyone must be able to make a living," he says. The sector needs a reimbursement system that ensures everyone receives a fair share of the pie. "This requires a cultural change in projects. It starts with a client who has the courage to restructure the ecosystem. Because with the business model time to market, we are dealing with international competitors in the global supply chain." Mark Courage emphasises the moral obligation of major players, both OEMs and 1st-tier suppliers, to continue investing in low Technology Readiness Level (TRL) research for smart manufacturing.
Adding value only 10% of the time
TNO has developed the "Ten Times Ready" program for small SMEs, which allows entrepreneurs to digitise together. The program makes them aware that they often add value for only 10 percent of their time. "What if you can increase your Overall Equipment Effectiveness (OEE)? Then you can achieve more with the same workforce." The experience shows that a change in mindset is crucial. Mark Courage suggests setting a distant goal and working towards it in small steps. "If you attempt to run a marathon untrained, you'll give up after 10 kilometres due to muscle pain. If you set a goal for yourself and plan the training sessions accordingly, you'll eventually be ready. In short, set a realistic goal and take small achievable steps." Ultimately, businesses have to take the initiative, he believes. "You can have a perfect coach, but you must run the marathon yourself and display a strong work ethic during training." Therefore, he finds joint programs like the one offered by TNO important as participants can stimulate each other. "When you move together, you can share tips, and the laggards can learn from the industry leaders. It prevents overreliance on a single party." He also advocates for entrepreneurs to take charge of digitisation rather than leaving it to a consultant. "That can work, but you'll be less agile than having the knowledge, capabilities, and skills in-house." He notices that the knowledge developed by pioneers in the Smart Industry field labs, for example, gradually permeates through the rest of the ecosystem. Best practices should be approached bottom-up to activate those 6,000 companies in the industry.
Circular economy
There is another reason to digitise: Europe has embarked on the path towards a circular economy. Terms like "re-use, repair, and refurbishment" will change the design at the front end. "Design machines and products so that they can be repaired or the materials can be recycled." This even presents an opportunity to improve the product with a different design. Many manufacturers are not yet focused on this aspect, but the Right to Repair Act will force them to do so. "And if we start applying true pricing, manufacturers will be prompted to move in this direction." Data plays a crucial role in this regard, if only for the digital product passport or when full pricing is implemented (incorporating environmental costs into the product price).
No more waiting
Mark Courage believes that manufacturing companies can no longer wait to take the first steps towards digitisation. In practice, companies come up with various barriers to avoid it, but changes will soon occur that will impact the sector. The need to save energy is one of those changes that will demand serious efforts. The rising CO2 price will play a role in this. The first step he recommends to companies is benchmarking. "Am I doing the right things? Is the overhead-to-production ratio appropriate, or am I deviating from the competition?" The second step is digitisation. Invest in it. Only then can you take the third step: innovation. "Use the quick wins from digitisation to take your company to the next level and increase labour productivity."
Online platforms of national importance
What role can online platforms play in this development? Mark Courage believes they have a significant role to play as they facilitate knowledge sharing. "A platform can help make things known; help scale best practices. In the past, news was dependent on a single channel, but now we have multiple sources, and social media is often faster than the NOS News." However, he warns against becoming dependent on China or the United States, without knowing what those countries will do with the data. Therefore, he advocates for European and national platforms and data spaces. "Data spaces enable interaction within the value chain." This is industry 4.0: making value exchangeable throughout the entire value chain so that parties can work with it. This is why manufacturing companies must digitise, as it is essential for the next step: Industry 5.0, where human interaction becomes an additional dimension.
Marc Courage - Director of Smart Industry at TNO
Sjors Hooijen - CEO Tech2B
No Comments Yet
Let us know what you think