E-Sourcing In Manufacturing: Definition, Process, and Benefits
by Tech2B on Aug 18, 2022 3:40:53 PM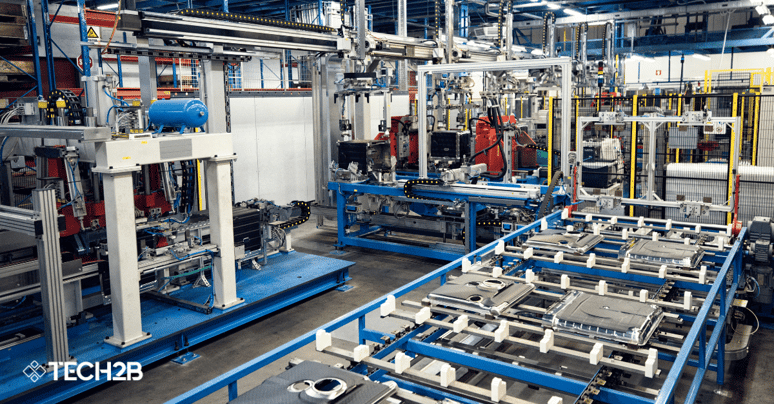 According to a survey by Havas, 73% of customers agree that companies must take urgent action to uplift society and the earth. Yet, auditing and maintaining a record of sourcing remains one of the most challenging tasks for many businesses involved in the supply chain. Not only does this make it more complicated for a manufacturing firm to verify that ethical procedures are followed, but it also makes sourcing materials less efficient and causes it to cost more than it should.
Along similar lines, here we are going to introduce an ultimate solution in the form of e-sourcing, along with its precise definition, process, and primary benefits. So, here we begin.
What Are Sourcing And E-Sourcing?
Before a manufacturing business can get the necessary products and services, it should first source the products and services it is attempting to buy and then begin the procurement process. By determining how much of each kind of asset is needed and allocating funds accordingly, sourcing makes the whole life cycle of procurement processes much easier to manage.
Evaluating the trends in the market is the primary objective of sourcing, and the organization has to find possibilities to cut expenses associated with procuring products. Successful sourcing requires managerial expertise, familiarity with legal contracts, and negotiating strategies.
On the other hand, e-sourcing refers to an advanced way of sourcing that streamlines the traditional process by performing all of the required procedures in a single, consolidated online place. E-sourcing is a method of procuring goods and services that uses the internet to conduct supplier evaluations and establish connections between various businesses.
The management of procurement strategies from the beginning to the end may be improved with the help of several different e-sourcing software packages or tools that are now available. E-sourcing platforms or systems provide spend-analysis options, which opens the door to enhancing spending habits and evaluating suppliers' capabilities. One additional advantage of employing e-sourcing technologies is the examination of the metrics of the project.
How Does E-Sourcing Really Work?
The complete procedure is broken down into the following steps:
Pre-Purchase Questionnaire
Before establishing business with any supplier, it is essential to determine whether or not the supplier in question is suitable to do business with. Pre-purchase questionnaires, often known as PQQs, are comprehensive questionnaires used by companies to determine whether or not a potential vendor meets their requirements. PQQs are often used in the public sector. However, other businesses may refer to the procedure as a request for information (RFI).
In the past, procurement teams were required to complete these documents manually. This process may take anywhere from 1-5 hours. Electronic sourcing makes the process more efficient because it allows suppliers to submit their responses into e-sourcing software, which is sent immediately to the manufacturing organization. It enables businesses to gather data from many suppliers in a shorter time. Moreover, it guarantees that all tasks will be completed consistently.
Invitation to Tender
An invitation to tender, or ITT for short, is used to solicit competitive proposals from various vendors. It is also defined as a call for tenders. Suppliers are given an ITT after they have responded to a PQQ and been chosen to advance to the subsequent stage of the sourcing process.
The ITT document lists the manufacturing organization's needs, such as what goods or services are needed. It also explains what information the buyer will ask the supplier organization to provide about its policy initiatives, methodologies, and workflows and how the assessment process will work. Suppliers fill out this document so the process can move on to the next step.
Request for Quote
The most important consideration in selecting a supplier is the cost. Buyers will distribute forms to suppliers and ask those suppliers to give pricing information for the services they can deliver.
Suppose a buyer wants to have a better understanding of the price ranges available on the market. In that case, they may choose to employ RFQs before they go on to an RFI or ITT.
Evaluation
An evaluation process is carried out after sending and receiving the assessment formats. During this process, the potential buyer reviews the information a supplier has given them to determine whether or not the supplier is a feasible contender for the position.
In the past, this procedure required physically combing through a large amount of documentation from vendors invited to offer their services. But e-sourcing transforms all of this. It gives users an advanced suite of metrics, analytics, and capabilities like automated scoring. Besides, it enables users to automate aspects of the assessment process, thereby saving valuable time.
eAuction
eAuctions, which are very similar to RFIs, PQQs, and RFQs, may be held at any stage in the e-sourcing process. It is possible to keep it as a standalone event for completed items, or it may follow a tender or be utilized after a tendering process.
After the suppliers have been chosen, they are sent an invitation to participate in an eAuction, a procedure in which the suppliers compete with one another for the opportunity to fulfill the agreement for which they have been requested to tender.
Several e-sourcing tools are available, and each of these eAuction variants offers its own set of advantages. Auctions are meant to encourage potential suppliers to bid and, as a result, provide procurement experts with the best available offer.
Awarding of a Contract
A contract is given to the winning supplier once all of the relevant tendering procedures and eAuctions have reached a successful conclusion. Certain aspects of this procedure may be automated, resulting in an immediate contract issued to the winning bidder.
The Primary Benefits of Using E-Sourcing
The following is a list of some of the most fundamental advantages of e-sourcing:
✔️ Real-Time Information: The capability to obtain access to real-time information and provide full visibility between suppliers and buyers.
✔️ Collaboration and Productivity: The centralized data management and the simple integration it offers with various apps increase productivity and cooperation.
✔️ Compiling Vendors: E-sourcing assists with putting out a bid package for potential future requirements while compiling vendor questions.
✔️ Saving Time: You may get statistics on the market and data on suppliers inside a single unified location, which saves time and assists in making an informed purchase.
✔️ Minimizing Manual Processes: An economical method for reducing the amount of work that must be done manually by automating the procedures that are associated with sourcing.
What do you aim to achieve by using electronic sourcing or e-sourcing? We would be delighted to hear from you, so please get in touch with us as soon as you can.